About Dyco MFG, Inc.
We are a family-owned and operated business located in the northwest corner of Ohio, providing a broad range of services: metal stamping, laser cutting, press brakes, and welding. With our unmatched commitment to our customers, you can expect excellent quality, competitive pricing, and on-time delivery every time.
Humble Beginnings
1967
Alan Dye, his father & brother started a tool & die shop in a three-car garage on their family homestead.
1968
Dyco moved into a 2,500 square foot-building in Alvordton, OH.
1971
Dyco's metal stamping operation was born and the first 5,000 square-foot building was constructed at their current location.
1980's
2nd & 3rd Expansions brought Dyco to 17,000 square feet, adding more presses and warehouse space.
1992
Dyco expanded again and grew into a 24,000 square foot facility.
2011
Dyco added its first weld cell and press brake.
2017
The company celebrated their 50th year in the business
2019
The 5th Expansion brought Dyco to 32,000 square feet with the addition of a 6 KW Fully Automated Fiber Laser and 5 more press brakes.
2023
The 6th Expansion will be completed and bring Dyco to 42,000 total square feet with the addition of a 20 KW Fully Automated Fiber Laser and more warehouse space.
Family Values, Manufacturing Success
Alan Dye bought the business in its entirety in 1997 and remained at the helm until his retirement in 2004. Since then, Wesley Dye has been at the company's helm setting the tone for the next generation.
The Dye family continues to be hands-on in all aspects of the business and are proud to have the fourth generation involved.
After 55+ years in business, a lot has changed. Our team is larger and includes a talented group of manufacturing professionals who have been instrumental in fueling our company's growth and success. We are fortunate that our team shares our family's values and commitment-to quality and to our customers.
If you are interested in joining a team where hard work is rewarded and there are regular opportunities for growth, please submit an application.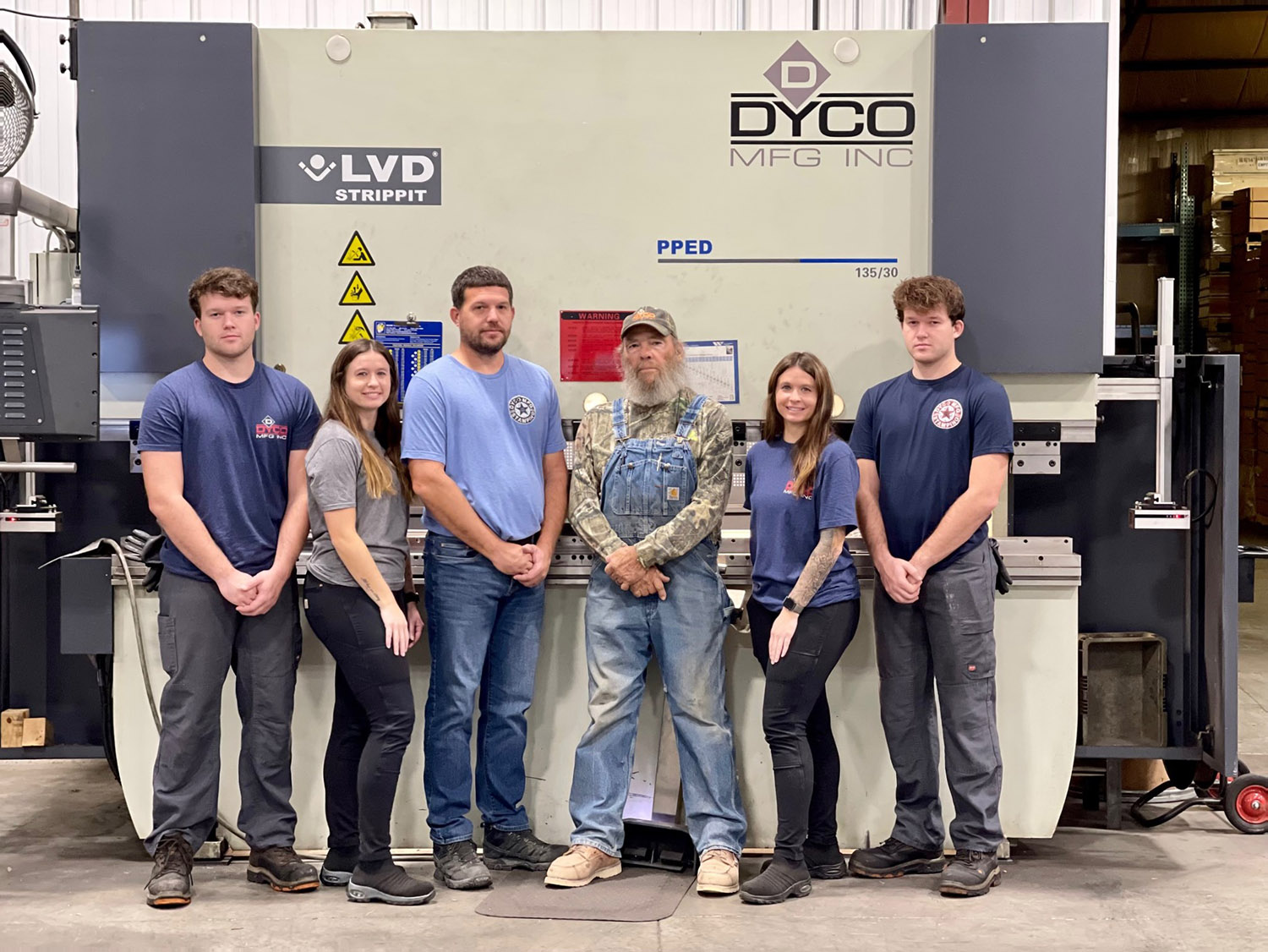 Dyco MFG Family Generations